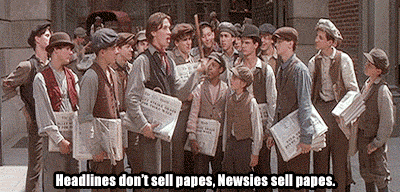 Everywhere I go I feel like I'm in the Newsies musical with people pushing the importance of author newsletters on me.
"If you're not doing a newsletter you need to rethink your strategy!" and "Newsletters are the best way to create fans!"
Five years ago I rolled my eyes every time I visited an author page and it bombarded me with, "Have you signed up for my newsletter?"
As a reader, nothing annoyed me more. As a writer, I just didn't get it.
But now, things have changed. The way writers and readers interact has changed. Years ago newsletters felt more like spam advertisements then what they've become today, a way to promote your book, your life, and reveal fun excerpts to readers. I'm realizing that maybe newsletters aren't so bad after all and I'm discovering a whole new world I was missing out on as a reader. **Cough** Sorry, I just watched the new Aladin.
Why should a reader sign up for a newsletter?
Let me just start by saying, don't sign up for newsletters willy nilly. This is how you get a lot of junk mail that you'll never read, and (overtime) you'll slowly grow to hate that author because they keep sending you things you signed up for. Only sign up for your top five (maybe top ten authors.) These should be authors you insta-buy, or ones where you obsessively check to see when they have announced the next book in the series. Why? Because they are people you follow, people you (hopefully) want to know more about. When you get a newsletter from your favorite author you'll be excited to read it to find what new things they have lined up for the future.
Why else?
Because the newsletter is where they will tell you what they have planned next. Usually you'll be the first to know about cover reveals, special excerpts, book announcements, and giveaways! A lot of authors do exclusive giveaways via their newsletter and reveal special information about their upcoming projects. For this reason alone I think it is worth the sign up.
Anything else?
Yes, most authors add a little something extra to their newsletter. Now be warned, each newsletter is unique and every author is different. Some authors will get very personal in their newsletters, some give away writing advice (like the amazing Susan Dennard), some give awesome recommendations on what they are reading and listening to (like Ashley Posten.) If twitter and website-stalking isn't enough for a rabid fan, the newsletter is where fans can get a little more from their favorite authors.
What can signing up for newsletter do for an aspiring author?
Easy, you can learn from them! Sign up for your favorite author or the authors who write in the same genre as you. Study how they structure their newsletter, what you like and don't like. Check to see what newsletter system they use for their newsletters (most of the time it says at the bottom of the email.) This way, you're not only supporting a fellow author but making a important business move.
In the end you have to try to figure out how to best make the newsletter work for you.
Rachael Arron has a great blog post on how she utilizes newsletters for each of her books. I recommend reading it and coming up with your own layout and plan that will work for your brand.
As an author, don't think of the newsletter as another form of "blogging." It should be different. You likely won't get any new readers from it, so instead realize you are curating this format for someone who is already a fan. What do they want? Deals, swag, and the inside scoop on what you're doing.
If you don't have a book finished yet, then I'd wait on the newsletter until the stars align. When you have the publishing date figured out, the cover in hand and a sexy little sneak peek excerpt then you should start your newsletter, but again, this is different from blogging so make sure you are giving people something different.
Consider this post your first step into a whole new way of interacting with your favorite authors (and readers.) Like I said, I am way late when it comes to understanding the importance of the newsletter. It's a form that I think is still evolving and has been since I started obsessing about authors at the tender age of thirteen.
So for those looking for more information on if they should start their own newsletter or not here are some helpful articles:
1. Jane Freidman: What Should You Put In Your Email Newsletter?
2. Kristine Kathryn Rusch: Newsletters and Discvoverability
This is also a great way for me to announce that I have started my own newsletter!
(You might have noticed the subscribe box on my main page.)
Please sign up if you are interested in receiving updates as we near publication date, the chance to win ARCS, and special swag!